xBTCe company offers to take part in a contest judging the best review (or use case) of xBTCe TickTrader Mobile Terminal. Don't miss your chance to not only win the prize money, but also to discover your new talents. A peculiar thing about the tournament is that the winners will be awarded money prizes in cryptocurrency (Litecoins). The contest starts on 1st of August.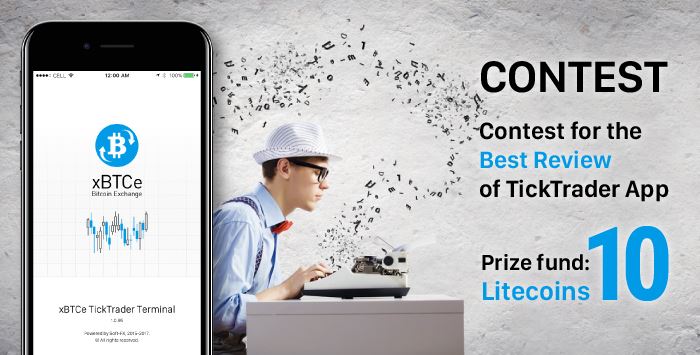 What should you write about?
Your work should be a review (use case) of xBTCe TickTrader mobile terminal.
You can write about the strengths and weaknesses of one or another app feature, the most successful and effective as well as missing options of the terminal. A review may contain a short user's guide for beginners accompanied with screenshots. The main requirement is to produce an informative and useful material.
Some topic ideas:
How to trade Litecoin with TickTrader
TickTrader mobile app: installation and settings
TickTrader - opportunities to earn on cryptocurrency trading
Terms and conditions
You need an eWallet in xBTCe to participate in the contest. Participants should publish their works on personal blogs (dedicated websites) or social networks and send links to them at contact@xbtce.com, or send your reviews to the indicated e-mail (specify "Contest for the Best Review of xBTCe TickTrader Mobile Terminal" in the email subject line) providing your xBTCe eWallet number. The closing date for entries is 31st August.
If your work is accepted, you will receive a written confirmation. It will be published on the company's Facebook page with a note that this review figures in the contest. You will also be able to see other contestants' works there.
Review requirements
The reviews must be from 2000 to 7000 characters in English or Russian, or from 700 to 2500 hieroglyphics in Chinese. The entries containing duplicated or plagiarized content, low-quality material or extremely short notes with no illustrations will not be accepted. Be sure to include a link to the app into your review.
You should also consider that your contest work is not an app review for Google Play. Such publications on Google Play are PROHIBITED by the conditions of the contest, as we follow Google policy:
"Ratings and reviews are benchmarks of app quality. Users depend on them to be authentic and relevant."
Prizes
The overall prize fund - 10 Litecoins.
The winners will be defined on the basis of voting held in the social networks, i.e. your fellow traders and social networkers will help to decide the final outcome of the contest. There will also be a randomly chosen voter who will receive a 1 Litecoin bonus!
It has been decided to award 5 authors of the most successful works.
The prizes will be distributed as follows:
1st place - 3 LTC
2nd place - 2 LTC
3rd place - 2 LTC
4th place - 1 LTC
5th place - 1 LTC
The prizes will be added to the participants' eWallets registered in xBTCe. The prize money can be withdrawn via any payment system available in your xBTCe personal area right after it has been credited to the winners' eWallets.
Source: xBTCe news.