When I open my wallet (windows), it seems to open and is visible in the windows taskbar. When I click "Alt" + "Tab", I can see it on my screen, but when I select it, the wallet doesn't appear.
Could be some kind of windows error, but how to get access to my wallet again?
See image: I see the icon below, but when I click on it, it doesn't appear…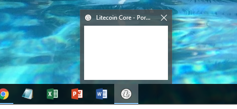 When I start the client it first says: "loading blockindex" and then it reverses blocks or something…
Thanks!