When the SatoshiLite card came out for the game Spells of Genesis, I received a bunch of them for free.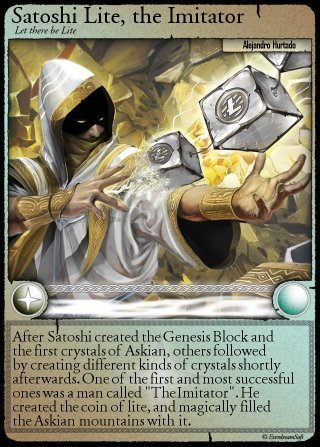 I'm going to do a giveaway to give them away. They are worth about $70 right now! https://sogassets.com/dex/SATOSHILITE
But it's not going to be that easy. It's going to a brainwallet puzzle. If you can guess the brainwallet passphrase, you can figure out the key and be able to send the card to an address you control. Remember, this card is a Counterparty token. So you will need a Counterparty wallet. A good site to convert a brainwallet passphrase to a private key is Bitaddress.org. Sadly Counterparty is not on Litecoin yet! Once you have the private key, use Import Funds to add it to your counterwallet.
I will release them one at a time. And I sent enough BTC there for the fees required to send this card out. It cost me $3 for me to give this card away for free. Bitcoin fees! SMH

Puzzle #1: https://counterpartychain.io/address/13i1UnzAQ81LrDxjp4KzvkTuA4MbyWumD6
Hint: Litecoin is …
Solution: silver to bitcoin's gold
Puzzle #2: https://counterpartychain.io/address/1FccaPJNwiwtKpN1jKKiAtidFQdRVFMfj5
Hint: G 1:3
Solution: let there be lite (Genesis 1:3)
Puzzle #3: https://counterpartychain.io/address/1Bj5sb31k7WKTLtwUWrgXvZPR6Xp5r4TzH
Hint: The Times 03/Jan/2009 Chancellor on brink of second bailout for banks
Solution: NY Times 05/Oct/2011 Steve Jobs, Apple's Visionary, Dies at 56 (Litecoin's genesis message)
Puzzle #4: https://counterpartychain.io/address/17qfkN6147jLMSD1D1Sw8BzHJYWK7tApgA
Hint: Tomorrow's going to be a good day!
Solution: Today's a good day because I got a new guinea pig! (My troll tweet when Litecoin launched on GDAX)
Puzzle #5: https://counterpartychain.io/address/1PJ9XMbHkptH46WEmGJeY3hycrLo2BGpP4
Hint: "LET …"
Solution: LET THE CHIKUN GO (https://twitter.com/satoshilite/status/851724648479838208)
Puzzle #6: https://counterpartychain.io/address/1K8QWZBQwYffqU2z69qs239b2LyNWa4t91
Hint: SegWit Bounty
Solution: 40,338.34441635 LTC (Current amount. https://www.reddit.com/r/litecoin/comments/6azeu1/1mm_segwit_bounty/)
Puzzle #7: https://counterpartychain.io/address/16sL8phVTrpxJfWWXAhSADH4ZMT8RY3okd
Hint: /realprice
Solution: It's $4. It's always $4€ (Telegram bot response because LTC was previously pegged to $4))
Puzzle #8: https://counterpartychain.io/address/1Bk5KfuqFMsi7knvcgh3sv1L5H7vPMbKi
Hint: Craig Wright is not Satoshi Nakamoto
Solution: I, Charlie Lee, am the creator of Litecoin (The message I signed to prove I created Litecoin)
Puzzle #9: https://counterpartychain.io/address/18WUnGpjxFHM1KDNwR7rENcgCVBJGnGYCs
Hint: The secret passphrase of the puzzle
Solution: The secret passphrase of the puzzle
Puzzle #10: https://counterpartychain.io/address/167zHY54mDgx3p5TaZwZmdg3PEam2AgVQ9
Hint: SegWit activated on
Solution: 53e0af7626f7f51ce9f3b6cfc36508a5b1d2f6c4a75ac215dc079442692a4c0b (http://explorer.litecoin.net/block/53e0af7626f7f51ce9f3b6cfc36508a5b1d2f6c4a75ac215dc079442692a4c0b)
Puzzle #11: https://counterpartychain.io/address/17frhwPXMh8GL1CWi1yY3WEPQgMzv8AbW2
Hint: Who gets SegWit?
Solution: YOU GET SEGWIT. AND YOU GET SEGWIT. EVERY COIN GETS SEGWIT! (https://twitter.com/satoshilite/status/828883976639041536)
Puzzle #12: https://counterpartychain.io/address/1BnC57okEVWhx7NbGstkS9byn4TMoS7rUn
Hint: 6vfYuZ6MpBtzjNBQT2JuarJtF1XJNBptCK9JEAvkyicmDPZouJ5
Solution: (This is not a brainwallet. Private key is 5KMpSRYpumS8FzHYwCWwoTXiHXxqAPNrRdk8WyujGGJ9XYw8a3o, which is the Bitcoin equivalent of the Litecoin private key in the hint. Use liteaddress.org to get the hex private key and use that in bitaddress.org.)
Puzzle #13: https://counterpartychain.io/address/19zf3PcjfuZJVSKPwhXr2nBZYhfqkQZVrN
Hint: ask the source! t.me/Litecoin
Solution: why are you asking me? figure it out for yourself! (I replied this to whoever wrote me on Telegram for the passphrase)
Puzzle #14: https://counterpartychain.io/address/1PSLPqwVYBJQxfmgknvR3J81MCpdyxQfJs
Hint: Answer to when is Litecoin on Coinbase.
Solution: PATIENCE YOU NEED YOUNG GRASSHOPPER (My response on twitter to that question. https://twitter.com/SatoshiLite/status/859151226411163648)
Puzzle #15: https://counterpartychain.io/address/19u9o4GJQNFi84FAcudC2WF7djVvpgCu4E
Hint: Bio
Solution: Also known as coblee, creator of Litecoin. Cryptocurrency Enthusiast. Director of Engineering at Coinbase. (My bio https://twitter.com/satoshilite)
Puzzle #16: https://counterpartychain.io/address/1CEvDrbju2qx4DW59C1Q1ZhvzoqjxJ2YX4
Hint: fund me
Solution: 3BTxuixRkhMQfTSqCLmq9Wn4jJ9H3dszhX (Litecoin Foundation donation address: https://litecoin-foundation.org/donation/)