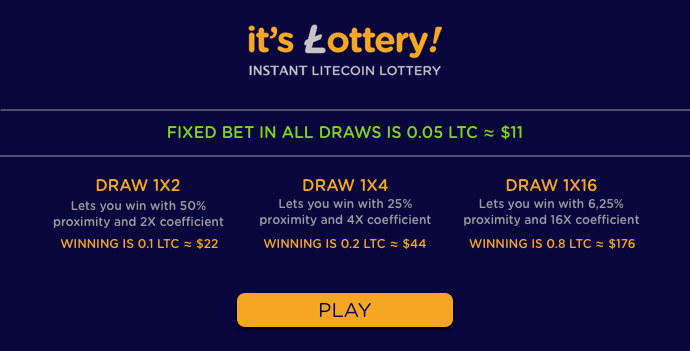 What makes us different from other lotteries
TRANSPARENCY AND SIMPLICITY
100% transparency - our smart-contract is in open source. Game mechanism is simple. Equal rules for all players. Full history of all winnings with transactions in blockchain.
INSTANT WINS & PAYOUTS
After the system randomly chooses the winner the winning amount is sent to the winner's address immediately.

How do we provide security & anonymity
We do not provide it. But we built a system in which there is nothing to hack. Once uploaded the contract rules the lottery. Our system is simple and transparent for everyone. It has only a few functions.
The system does not keep profiles and deposits of the players. Thus it provides the security and anonymity of the lottery.

Do we have users profiles or deposits
For the sake of security we do not have users profiles. And we do not keep deposits. The player sends the transaction to the specified address and, if wins gets paid instantly to his wallet address. The system knows the winner's LTC-address, as the blockchain keeps the history of all transactions.

What are the rules
The rules are simple. Player sends transaction to the address specified. After the contract gets 1 blockchan confirmation the system starts the game. The contract chooses the player?s address randomly. After the winner is chosen the contract sends the won amount to the address immediately.

Bets and winnings
FIXED BET IN ALL DRAWS IS 0.05 LTC ≈ $11
1X2 DRAW
Lets you win with 50% proximity and 2X coefficient
WINNING IS 0.1 LTC ≈ $22
1Х4 DRAW
Lets you win with 25% proximity and 4X coefficient
WINNING IS 0.2 LTC ≈ $44
1Х16 DRAW
Lets you win with 6,25% proximity and 16X coefficient
WINNING IS 0.8 LTC ≈ $176