Hello, Anybody having the same problem here: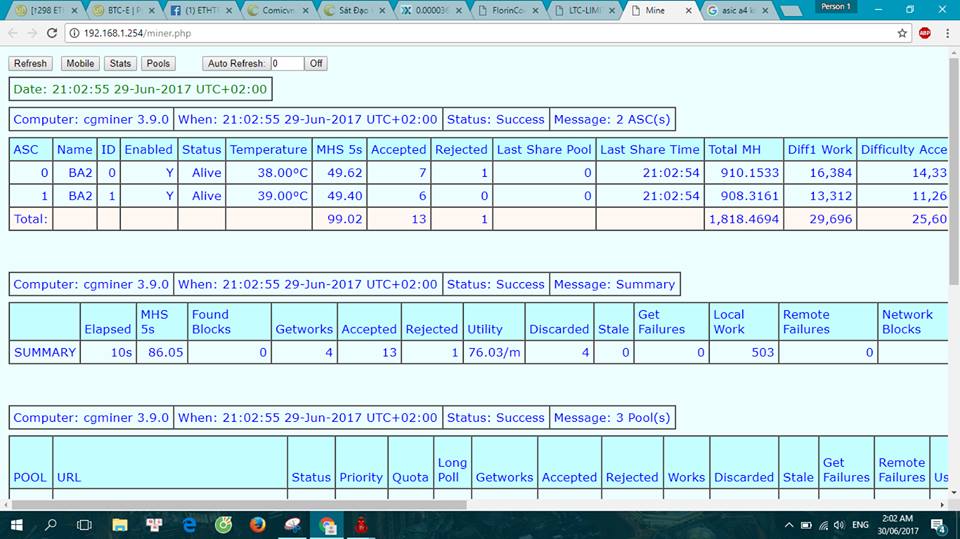 I'm using Innosilicon A4 Dominator with orange pi TF card controller ver 1.0.1
looks like the pool is accepting shares fine and your mining at 1800 MH…whats the problem? that is a ridiculously high hash rate for a a4 I thought they only did 500 mh or 250…
anyway…I bet you'd have better luck with a raspberry pi 3 as a controller running raspbian and dmaxl cgminer…seems to be the best mining software out as it has drivers for pretty much every miner out there including yours…btw a true hashrate form a pool is only accurately calculated after mining for 1 hr…since mining is just a lot of guessing by a processor then the average hash rate will vary no matter what is done…
The problem is that miner is A4s Dominator with 2 parts of miner connect to an orange pi controller.There're 4 blades in total.2 blades for each part.But as you can see…only 2 of them work.
I have tested and realize that 1 blade on each part doesn't work.
i see…does both boards connect to one "built-in" controller then your connecting to the orange pi? or your running all 4 board off the pi?
try running them separate straight to the pi if there is a built in controller…bet there's some kind of UART problem with the orange pi…
No, not at 1800 mh, only at 99.02 mh…
I have a similar problem, if I connect all four boards, one connects, if I disconnect the connecting board, connect the other three. I have never been able to connect all four boards. My opinion is that they have a problem with the new controller, tf card version . I use the tf version 1.1.0