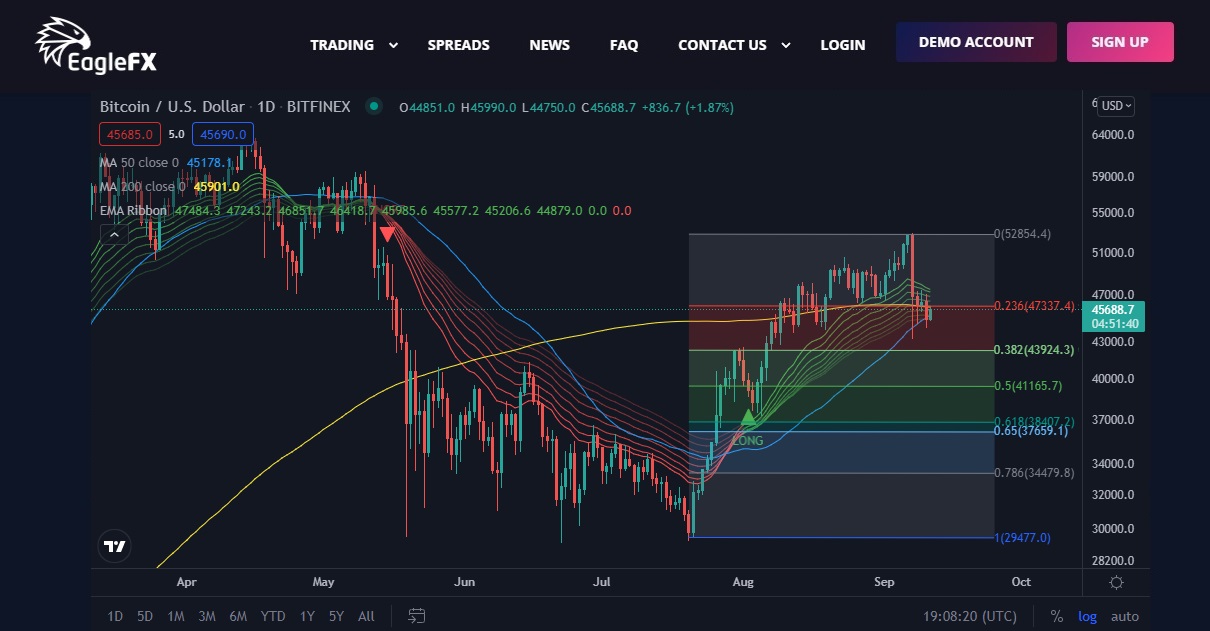 Hi all.
Kind of a hard week and hard times at all and here im am again. Is all about Bitcoin lost or its just a healthy correction? Guess what… nothing is lost yet, not at all. Be sure that when something in the Bitcoins life change in negative direction ill admit it but that time isnt come yet. In the next 3 posts ill show you how nothing has changed in Bitcoins technicals (up to this date) after this weeks dip. This 3 charts will be daily, weekly and monthly.
Im starting with the lowest and may be the less interesting chart – daily. In this chart well see a couple of indicators – 50 MA, 200 MA, EMA Ribbon and the fibo levels. The price is still above the 50 MA and a bit lower from the 200 MA – not a 100% bullish but bullish after all. The more interesting is the interaction between both MAs. As youll see from the chart were very close to so called Golden cross – very bullish. What about EMA ribbon? The price is not above it but its also not below it. The ribbon itself is not in a flipping position too. These 2 facts are also more bullish than bearish. Fibo levels you can use as support and resistance levels. If we fall way lower, I believe at least the golden pocket (from $38400 and $37600) will react as a strong support and well bounce from there and this will be around $10000 higher than the previous low – positive for the actual bull run. Thats it for now. Like I said above, this is not so interesting but the next (weekly) chart will be way more interesting and bullish.
See ya and remember… DCA (dollar cost average) all the way. It`s a marathon not a sprint.