SCAM WARNING: DO NOT BUY
cryptoasicsmining dot com domain name registered 3 days ago!
they claim to be taking pre-orders for a SOLD OUT Bitmain Batch in September!
NO ONE will give FREE Power Supplies and FREE Shipping.
GUYS, ANOTHER L3+ SCAM. DO NOT BUY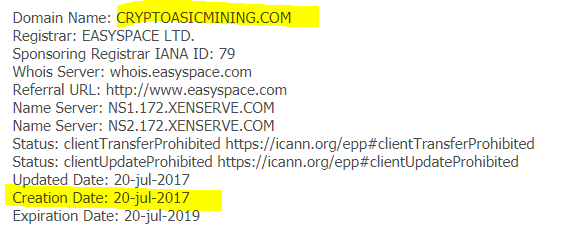 Daniel Spiller
Im not a scammer
ur just paranoid
Ask me what ever you want and i will provide
Even evidence that i purchase the miners.
What evidence?
That your 3 day old website is selling Pre-Orders for the September Bitmain L3+ batch that SOLD OUT last week.
PROOF OF SCAM MAYBE? YOU GOT IT.
Daniel
The miners are sold out in the Bitmain site so the info in my site is correct.
Your site abou the site being new but that doesnt mean im a scammer.
I have bougth 40 miners from Bitmain and now i out up this site to help selling them.
Wheres the scam on that.
Plus i can provide the purchase order and emails exchanged with Bitmain and anythinh else you require.